FYEye: Back to School Eye Examination
Posted on Tuesday, September 6, 2016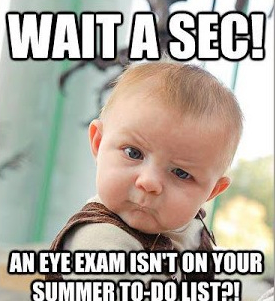 I hope you all had a nice three day holiday weekend! If you haven't already started school, you likely are starting today, meaning that the full swing of school is back in session.
There are many things to make sure you checked off your list in preparation for back to school… backpacks, pens, pencils, paper, notepads, etc…but did anyone mention how important it is to have a BACK TO SCHOOL EYE EXAM? 
One in four children suffer from a binocular vision dysfunction in which their two eyes are not communicating from their separate vantage points well enough to sustain the focus and posture necessary from a full day's worth of schoolwork. Many eyesight exams that children have usually only consist of reading a 20/40 sized line with both eyes together at 20 feet away. Many of these basic screenings are good for detecting overall gross vision problems, but they do not assess a child's near vision and how their eyes work together as a team when they are doing schoolwork, reading, doing homework or copying from a board. Suffice it to say, they do not assess binocularity, a skill that is absolutely necessary for a child's developing visual system in the academic environment.
We are happy to say that we saw many of you before the school year started and helped you check off glasses on your back to school list with our blowout kids frame sale. If you did not see us this summer, do not worry, we are having a FREE screening on SEPTEMBER 29th at our south location at 2510 W WATERS AVE, TAMPA, FL 33614. You read correctly, it's completely FREE. This evaluation will consist of a set series of tests that will help us determine if your child potentially has a binocular vision dysfunction and the need for further evaluation. The test will not include a prescription for glasses but we will indicate whether or not glasses may be necessary and if further evaluation is needed to make that final decision. The exam will also include education and one on one time with the doctor to discuss your child's visual needs and some visual hygiene techniques that can be utilized throughout the school day to better enhance their visual skills. Call us ASAP at (813) 915-0755 or (813) 345- 8544 to book your appointment. Time slots fill up quickly so don't hesitate! We can't wait to see you!
-Dr.S